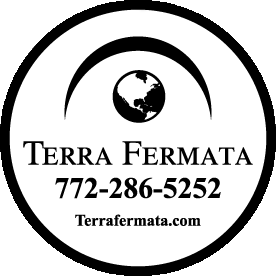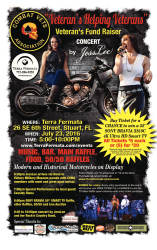 TERRA FERMATA PRESENTS
Combat Veterans Motorcycle Association with JessLee and her Rock'n Country Band performing in concert!
with special guest, CASSIDY DIANA
$10 ADV // $12 DAY OF SHOW A $5 SURCHARGE WILL BE COLLECTED AT THE GATE (DAY OF SHOW) FOR UNDER 21 YEAR OLD PATRONS. $5 SURCHARGE WILL BE COLLECTED AT GATE EVEN AFTER ONLINE TICKETS HAVE BEEN PURCHASED FOR THOSE UNDER 21.
Time: 5:00pm Day: Saturday Ages: 18+ Ages Price: $10
This Event Has Ended
Doors open at 5:00pm
COME EARLY TO GET GREAT SEATS

SHOWTIMES
JessLee
8:30 pm to 10:00pm

Special Guest: Cassidy Diana
7:00pm to 8:00pm


CVMA event to support VETERANS
For more information about the CVMA visit: www.combatvet.org  
We have a BIG night planned this evening with door prizes, raffles, music, and premium craft beer. Anyone who buys an event ticket, and shows receipt of that ticket, will have a chance to win a 55" SONY Bravia X810C 4K Ultra HD Smart TV!! Must have ticket to enter the TV raffle. The Road to Victory Military Museum of Stuart will be presenting a downtown parade to include our very own JessLee, a Military Tank and CVMA members. The Road to Victory Military Museum will also be presenting a display of military historical vehicles along with Crown Car Care's display of modern motorcycles.  
JessLee: jessleemusic.com
JessLee (Yes, all ONE word with a capital J and L) was born in 1991, spent her early years in Loxahatchee, Florida. There: wild hogs, snakes, dirt roads and big trucks were the norm. Born into a family of musicians you can imagine how music was always playing in this female country singers house. JessLee says family and music are her everything. Even before she could walk she naturally kept rhythm with the music. Believe it or not at age three JessLee already knew what she wanted to do. She took an immediate liking to country music and she sang it all the time. From the time she started Kindergarten she was invited to sing with the Young Americans. She loves to perform the National Anthem. She has been in front of large audiences at Major and Minor League (Marlins, Cardinals, Braves) Baseball , College and High School Stadiums plus many other venues and events like the Military Expo. She's won many vocal competitions as a female country singer. The spark that really lit up JessLee was when she wrote her first song, "Hold it in Your Hands", at age 9 and won Florida District PTA contest.  Since then,  she has continued to write many country music songs.
This female country artist has always been inspired by her grandparents who spent their lives doing what they love most, working together as professional musicians. Family gatherings were surrounded with music. More than anything, JessLee loves to perform on stage. Inspiring a crowd with her music is the icing on the already amazing musical cake. She has an ability to connect her own feelings through the crowd to feel her passion. Music  is inside her soul.
You may know of JessLee's successes on Season 13 of American Idol. The experience taught her a lot about the industry and gave her that extra push to take a hold of her dreams. Always motivated, but now even more driven to just go for it! Hard work and perseverance is what it takes to be a top female country singer and she says, "Music is the love of my life and I am willing to work hard at achieving my goals."
Life has already brought so  many positive and negative experiences to JessLee. She says "I have learned so much. Like how to be confident not cocky, flexible yet true to self, marketable and have fun. " She says, "I also have learned how to properly handle criticism. The good news is that everyone has their own opinion and thank God we can, in the USA, the greatest country in the world. The prayer of serenity: I accept that people will say what they want and I can decide how to decipher what they say. I learned how to use my thick female country singer skin in this very critical industry. The world is filled with supporters and non-supporters. Both can motivate beyond imagination. No matter what, in life, we can't have the highs without the lows or likers without haters. So I believe the key is trusting God and together turn ANYTHING negative into another motivating step closer to my dreams."
JessLee is a fitness activist! She believes that God wants us to take care of our body.  It is HIS temple. Fitness has taught the country music singer to be strong not just in mind, but also body and soul. Staying active and healthy keeps her strong and motivated for performances. Her mantra is:  "Music and Muscles" (Fitness website www.JessLeeMuscles.com)
JessLee has enjoyed performing throughout Florida. Sometimes she does a more intimate performance with just an acoustic accompaniment and other times she rocks out with her awesome band. (See band bios at bottom of this page)
At this time, JessLee is an independent artist.  She self-released her first EP recorded in Tennessee which was released April 17, 2015. She has since had many album reviews around the world, concerts, and interviews including her most recent appearance on WJHL Daytime TV.
October 24, 2015 she kicked off her campaign to raise money for the Combat Veterans Motorcycle Association (CVMA).  She donates $2.00 from every sold album:  JessLee Just a Kiss to the CVMA.  JessLee is passionate about supporting our veterans. She is a proud supporter of the CVMA. "Veterans helping Veterans" She is grateful to all veterans. Remembering John 15:13 "No greater love then to lay down one's life for a friend." JessLee says , "American Veteran's choose every day to put their lives in harm's way to insure the freedom of our country."
Cassidy Diana: cassidydiana.com
Singer, songwriter, and multi-instrumentalist Cassidy Diana Wetherell was born into  a military family in Asheville, North Carolina. She and her family endured hardships growing up in a post 9/11 active duty environment and had to relocate 14 times.
Cassidy found her solace in music. Her friends and family quickly discovered that she was a musical prodigy. In a few short years, she has mastered 5 instruments and has written hundreds of songs.
With the solid support of her family and a persevering spirit, Cassidy began performing live; gracing stages from New York to North Carolina to Nashville and garnering the attention of the music industry along the way. Johnny Van Zant of Lynyrd Skynyrd was one of her first mentors and she has performed alongside Trace Adkins, Craig Morgan, Chris Janson, Tyler Farr, Cole Swindell, The Marshall Tucker Band, The Little River Band, and many more.
Cassidy's catalog of original songs continues to grow and she continues to tour with her electric live performances around the country.
BIG THANKS to sponsors Mark Brechbill CPA, Todd Harris with Crown Car Care, Best Buy, American Speedy Printing, and Ocean Media!