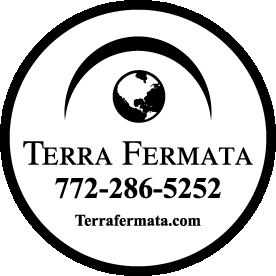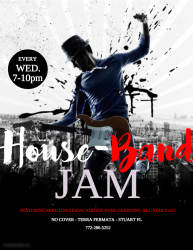 Every Wednesday
TERRA HOUSE-BAND JAM
This week with special featured guest Ace Suggs
Time: 7:00pm Day: Wednesday Doors: 6:00pm Ages: 21+ Ages
Terra Fermata's House-Band Jam
There's no telling what will come out of the HOUSE-BAND, but you can bet it will be a night not to miss.
HOUSE-BAND JAM is the special new project headed up by local musician Mike Loschiavo, who can be seen banging the stix for numerous local blues and rock bands including, Joel DaSilva, Lucky Dogs, Sister Baby, Slip & the Spinouts, Jay Stollman and others.
Each week, Mike will be bringing in talented and renowned local artists for the all-new local "Superband" he says will be mostly "BLUES. FUNK. ROCK", but with more.
Tonights featured guest: Ace Suggs...
Ace Suggs is originally from Georgia but has lived many places on the East Coast. Ace has been singing his whole life. "My Mom said that I would go around the house singing my original song when I was only a year old. I think the name of the song was "Oh My Goli Goli". I don't think it had many words to it." Ace and his family moved from Georgia to Indiana when he was 9 years old, and at age 10 he started a band with three older brothers called the Suggs Brothers Band. Shortly after that, the family moved back to the Southwest Georgia area, the Suggs Brothers became a household name and were performing all over the Southern Georgia and Alabama area. At age 15 Ace and his Family moved down to the South Florida area where they continued their music and performing in many different venues. Two years after moving to Florida Ace left the band and began his journey to make it famous. In 1990 he had his first taste of success with a few of his songs "X-Ray Eyes", "I Get Lonely Too", "Physical". Since then Ace has been performing, producing, and writing songs with the hopes of getting another opportunity in the Music Business. Currently, he has returned to his roots and is releasing his country EP "Good Life" and his acoustic EP "RAW"(Acoustic Soul) in the fall. Ace is one of the most sought-out singers in South Florida. His many years of experience in the music industry has made him a household name. He has worked with some of the biggest names in the music industry. Ernest Tubb, Merle Haggard, Jim Ed Brown, Helen Cornelius, Crystal Gayle, John Anderson, Leon Everett, Gloria Estefan, Jon Secada, Stevie B. Jim Owen, Sylvia, etc… Ace is also the top 5 Spiritual Artist on Tuneflow.com and is currently #6 on Reverbnation local Country charts. He is scheduling shows for the Fall/Winter season. He's got a soulful and intimate show that is sure to please. The tour will be to promote his new EP's, and the shows will be an intimate setting, Just Ace, and his guitar.
Come check out our newest regular feature, HOUSE-BAND JAM, each and every Wednesday night, 7-10pm. We also have our Beer & Bones event every Wednesday night! Bring your leashed, friendly pet and drink 1/2 price from 6-8pm! Free music, awesome beer/wine deals...hanging with your best bud...it's a win/win! 
Showtimes
7:00 pm
Terra Fermata's House-Band Jam