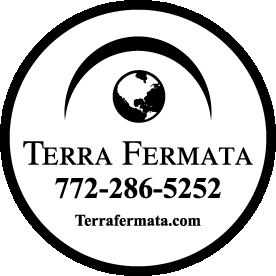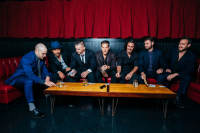 TERRA FERMATA PRESENTS
ROXY ROCA
Opening performance by: Micah Scott
Happy Hour 6pm-7pm
Time: 7:00pm Day: Tuesday Doors: 6:00pm Ages: 21+ Ages
This Event Has Ended
Roxy Roca
Official Website: roxyroca.com
No one leaves a Roxy Roca show dissatisfied. A sonic shot to the arm of Texas infused, powerhouse-southern soul and funk complete with a certain tightness only achievable after playing an average of more than 220 shows a year. Roxy Roca shows are like stepping into a tent-revival somewhere in the Deep South, and crooner Taye Cannon is here to speak the gospel. Each tune flows over with hooky guitar riffs, funky backbeats, slammin' horn lines, and lyrics of love, heartache, and a message of choosing happiness above all else sung with a conviction and sincerity as only Roxy Roca's green-eyed Soul-Cannon can deliver. 

Hailing from Austin, Texas, the band has come a long way in the short time it has existed. 2015 brought with it the release of Roxy Roca's latest album, Ain't Nothin' Fancy, on Stag Records. Recorded at EAR Studio in Austin with producer Lars Goransson at the helm, the record captures the classic sounds reminiscent of Stax, Motown, and Domino Records. One might say the band wears its influences on its sleeve, and any member of the six-piece soul outfit would happily list off the forefathers of soul and funk.

Now two albums deep, and hundreds of shows later, Roxy Roca has had the good fortune to share the stage with some incredible acts ranging from outright classics such as B.B. King, Tom Jones, and Lee Fields to more modern acts like Fitz and The Tantrums, Mayer Hawthorne, Trombone Shorty, and Vintage Trouble. The future looks bright for Roxy Roca, and there is no end in sight.
Micah Scott
Official Website: micahscott.com
South Florida singer/songwriter Micah Scott was raised in a small northern New York State town with Revolutionary War bones in its fields. Born in 1978, he had retro taste early, drawn to The Ventures, Creedence Clearwater Revival, and the Beatles, when the rest of the world was listening to Debbie Boone and Meat Loaf. In the 90's Micah was attached to a Fender Stratocaster and doing his best take on guitarist like Jimi Hendrix, Frank Zappa and Muddy Waters. When his guitar teacher turned him onto Blind Lemon Jefferson and Robert Johnson, the die was cast. Today, he counts as seminal influences Muddy Waters, Big Bill Broonzy, Mississippi John Hurt and John Fahey.
Armed with an honors degree from the Crane School of Music, Micah moved to South Florida and began getting roots-music cred playing every gig he could. Dim, greasy dive bars. Then more upscale blues clubs; and finally, music festivals. Seven years later, he co-founded a popular South Florida band called The KillBillies, which has grown a grass-roots following along the coast. In 2016, Micah made his first solo album, Dark Horse, on a break from an East Coast solo tour. It was recorded over three weeks in Philadelphia—another place steeped in American history. The album debuted at #1 on the Amazon Roots-Rock chart, and the single, Step Outta Line, came in at #1 on the Amazon Alt-Country and Americana chart.